Affiliations & Memberships
A Brief Introduction to Aircraft Engineers International (AEI) - Aircraft Engineers International (AEI) is the representative body of Licensed Aircraft Maintenance Engineers and represents approximately 40,000 Licensed Engineers from National Associations and trade unions worldwide. AEI was formed in 1972 as a direct result of pressure being applied by the aviation industry, particularly airlines, to remove the Licensed Aircraft Maintenance Engineer. Over the past 40 years AEI has been the only international body able to provide the aircraft maintenance engineer/technician with an opportunity to influence global rulemaking whilst promoting the highest levels of aviation safety and standards. Read more...
3rd Quarter 2017 AEI Update
September 14, 2017 -- As the Aircraft Engineers International (AEI) prepares for their 45th Annual Congress in November 2017, I would take this opportunity to update the AMFA membership on AEI's activities over the past several months.  As you may know AMFA has been an active affiliate of AEI for more than ten (10) years.

1st Quarter 2017 AEI Update
March 31, 2017 -- For the first Aircraft Engineers International (AEI) quarterly update for AMFA in 2017, I thought it would be a good idea to invite the new Aircraft Engineers International President, Mr. Paul Cousins of the Australian Licensed Aircraft Engineers' Association (ALAEA) to provide the update. Please see Mr. Cousins' attached letter.
Download:

20170330_AEI_Update_for_AMFA.pdf
4th Quarter 2016 AEI Update
November 1, 2016 -- October 11-14, 2016, Aircraft Maintenance Technicians/Engineers from around the world gathered to attend the 44th Annual Congress of the Aircraft Engineers International (AEI) in Reykjavik, Iceland. Approximately 40 delegates from four continents, 13 countries, and 14 affiliate organizations attended the Congress to address the business of AEI: amending the AEI Constitution; electing members of the Executive Board; attending plenary sessions on an array of relevant topics and gaining genuine insight into the challenges that we, and our peers, face as we uphold the demanding safety standards required for ensuring the airworthiness of the aircraft we maintain.

3rd Quarter 2016 AEI Update
September 1, 2016 -- The AEI Executive Board continues to work on focus items. With the recent change in the Secretary General position, discussions continue on better defining the job duties and responsibilities with a focus on evening out the workload.

4th Quarter 2015 AEI Update
Over the last several months we have had two Executive Board Conference Calls. We issued a press release following the Air Asia accident report highlighting safety lessons not being learned by the aviation industry, and created AEI's new e-publication "Released to Service."

Air Asia Press Release
December 9, 2015 -- Our affiliate Aircraft Engineers International (AEI) has recently distributed a press release in response to the Air Asia accident and are calling for the following reforms: "that a genuine culture of safety before operational needs must be enforced from the very top; that aviation must respect and create a culture where the responsibilities of our licenses can be properly exercised, free from reprisal; that doing it right the first time must become every technician, pilot, regulator and managers mantra; that governments must invest in regulators in order to ensure effective oversight; and that training at all levels within industry must be improved and increased." See press release for more information.
Download:

Air_Asia_PR_20151208.pdf
2015 AEI Annual Congress Report
The AEI Congress, hosted by AMFA, took place in Seattle, Washington USA on September 22-25th at the Hilton Seattle downtown. It was attended by Representatives from 14 Countries and 18 organizations. This is the first time in AEI's 42 year history that their Annual Congress has been held in the United States.

2nd Quarter 2015 AEI Update
There were two AEI Executive Board (EB) meeting in Q2 2015, the first I attended via Skype, and the second I attended in person in conjunction with an emergency meeting called by AEI to address great concerns regarding newly leaked documents on the Trade in Services Agreement (TiSA).

1st Quarter 2015 AEI Update
There have been two AEI Executive Board (EB) meetings since the Congress. We continue to deal with the Ombudsman ruling and EASA's over edited response to the original request for information. There is concern over EASA's interpretation of Certified Release to Service (CRS) with some in the industry trying to push the idea that it is simply an administrative function. AEI is standing firm that a CRS requires certificated personnel directly involved in the maintenance performed.

2014 AEI Annual Congress Report
I was honored to attend the 42dnd annual AEI congress in Le Bourget France. I was accompanied by our own AMFA National Director Louie Key. The Congress was graciously hosted by our friends at SNMSAC, our French affiliate and attended by 14 countries and 16 organizations. Here is a breakdown and synopsis of this years Congress.

2nd Quarter 2014 AEI Update
I attended the 2014 FAA/EASA Safety Conference on June 17-19, 2014, on behalf of the Aircraft Engineers International (AEI) and the Aircraft Mechanics Fraternal Association (AMFA). After working my regular shift in Seattle, WA on June 16, the night before the conference, I travelled to Washington, DC. I took the Metrorail train from the airport to an inexpensive motel several exits away from the Bethesda Hyatt. The following morning I began my daily trek from the motel to the conference via the Metrorail. The conference began with an introduction and plenary session titled "Beyond the Bi-lateral Agreement- Collaborative Approaches to Aviation Safety" moderated by Margaret "Peggy" Gillian, FAA Associate Administrator for Aviation Safety.

1st Quarter 2014 AEI Update
In late February I was elected as the Aircraft Engineers International (AEI) Secretary of the Americas by the AMFA Joint Advisory Council (JAC). It's with much pride that I've assumed this role, and am working hard to increase AMFA's participation. AEI is a group of Union represented Aircraft Maintenance Engineers that have come together with a focus on safety, regulations, solidarity, and upgrading the status of the licensed aircraft maintenance engineer.

2013 AEI Annual Congress Report
From November 20-23, 2013, I was given the opportunity to attend the Aircraft Engineers International (AEI) 2013 Annual Congress. Before the congress began, I was somewhat familiar with AMFA's involvement with the AEI. I knew that AMFA was the only AEI representative in the Americas, and I was aware of our membership's differing opinions as to whether AMFA's affiliation with the AEI was a good use of our members' dues and AMFA's resources. By the Congress' conclusion, I learned much more about this organization, and through this report I will share what I learned with our membership.

AMFA Officers Attend AEI Annual Congress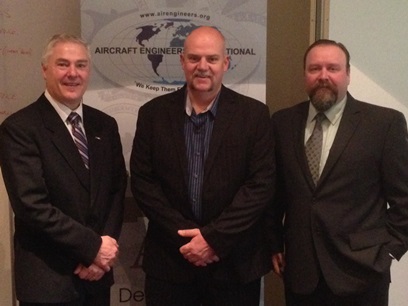 In November the AMFA delegation composed of Louie Key, National Director; Dave Brooks, National Safety & Standards Director and AEI Secretary of the Americas; and Brad Fornelius, Local 14 VP and "Delegate at Large" attended the Aircraft Engineers International (AEI) 41st Annual Congress in Melbourne, Australia. AEI is the only global aircraft maintenance technician craft-specific affiliation.

Aviation Industry in Need of Wake Up Call over Safety
Delegates attending the Aircraft Engineers International (AEI) 41st Annual Congress 2013 in Melbourne, Australia have been informed that known but unreported aircraft defects remains the biggest single threat to passenger safety. "Airline passengers are unknowingly facing higher levels of risks due to the dangerous practice of not documenting aircraft system defects until reaching an airport where maintenance can be performed. In other words defects are typically reported "only when commercially convenient for the operator to repair, rather than when they actually occur," says AEI President Robert Alway.

Aviation Regulators Failing Passenger Safety
AEI Secretary General Fred Bruggeman has informed delegates ahead of AEI's 41st Annual Congress that "regulators are failing to uphold and protect passenger safety". Evidence provided to congress revealed that more than 90% of aircraft defects only occur during a flight to home base, in other words on a flight to an airport where maintenance can be provided. "Are we missing something?" Mr Bruggeman asked "or is someone not doing their job properly?"

Page Last Updated: Sep 14, 2017 (08:35:00)