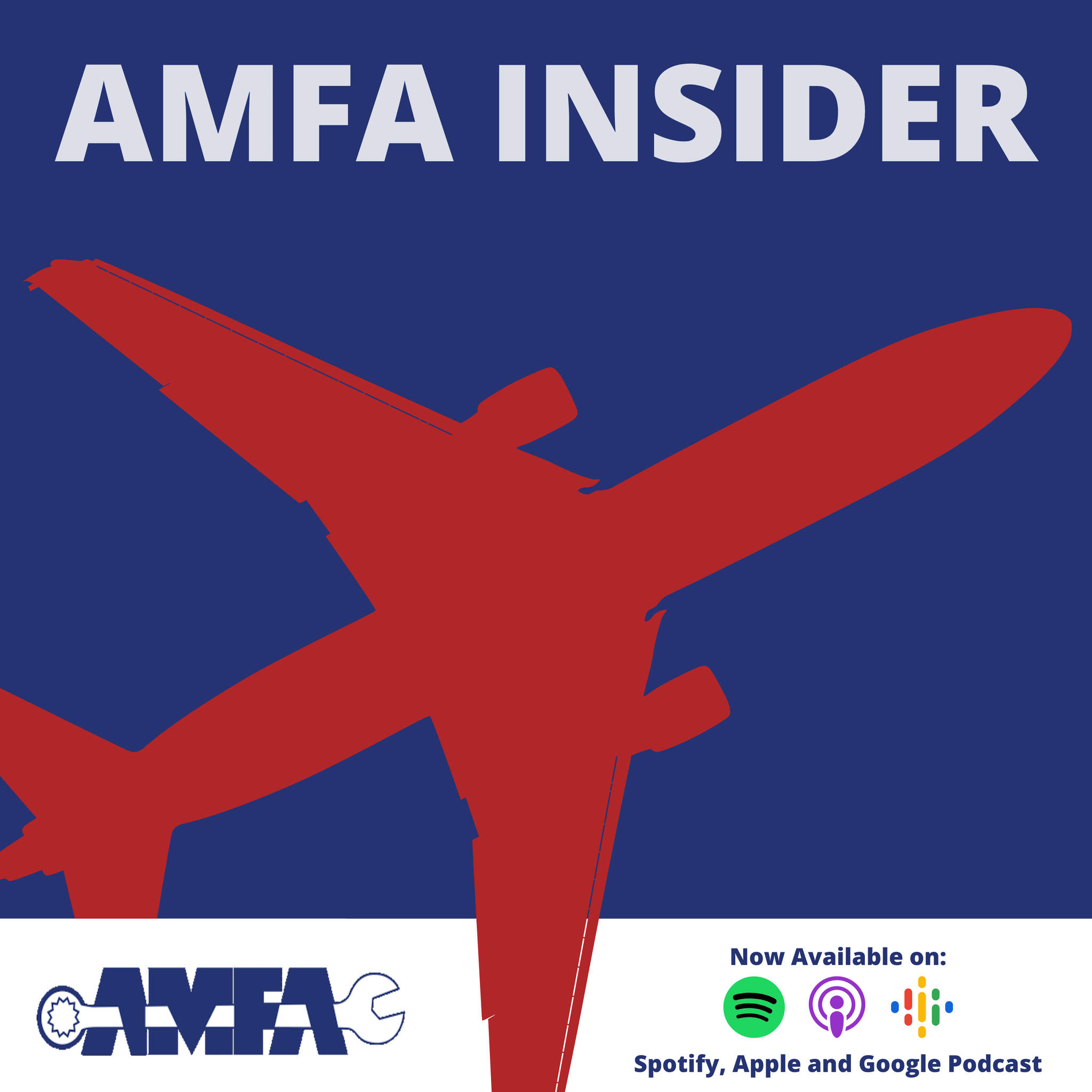 AMFA is proud to announce AMFA Insider, a craft specific podcast that shares the inside scoop on news and updates happening within AMFA and across the airline industry. Now streaming on all platforms, check out the links below to listen on your preferred platform:
https://open.spotify.com/show/0KdTLnZgdCpyVdJF4hHgdu?si=cae98cbcf20942cc
https://podcasts.apple.com/us/podcast/amfa-insider/id1606010210
https://podcasts.google.com/feed/aHR0cHM6Ly9hbmNob3IuZm0vcy83Mzg3M2NmMC9wb2RjYXN0L3Jzcw
The Aircraft Mechanics Fraternal Association is a craft specific, independent aviation union. It is not an industrial union and represents only aircraft maintenance technicians and related employees in the craft or class in accordance with the National Mediation Board Rules and their dictates. AMFA is committed to elevating the professional standing of technicians and to achieving progressive improvements in the wages, benefits, and working conditions of the skilled crafts people it represents.
| | | |
| --- | --- | --- |
| August 24, 2022 -- On this episode of AMFA Insider, Scott sits down to talk with former National Director for AMFA and current Secretary of the Americas for AEI, Louie Key. Key has been with Alaska Airlines for 43 years is and is set to retire later this year. Listen to this week's episode to hear how Key got into aviation and how things have evolved over the years as well as his involvement with AMFA as an Airline Rep and National Director. | July 29, 2022 -- In this episode, Scott talks about the Aerospace Maintenance Competition that took place in Dallas, TX back in April of 2022. He interviews different technicians and asks about their experience and their time at the competition. Take a listen to learn more about how the 2022 Aerospace Maintenance Competition went. | April 13, 2022 -- For today's podcast, we are joined by Ken MacTiernan who has been an AMT Line Mechanic for the past 35 years. Ken walks us through his experience in the Air Force working on B-52s and swiftly brings us to the discussion of his experience as the Chairman of the Aerospace Maintenance Competition. Mactiernan offers us insight into the competition as well as his evolvement in the event. Listen to this episode to learn more about the Aerospace Maintenance Competition and Ken MacTiernan. |
| February 11, 2022 -- In this episode we speak with Justin Madden, Executive Director of Government Affairs for AMFA. Justin dives into the history of AMFA, discussing its original vision and how he has worked to help ensure AMFA mechanics and related are given a voice. Listen to this episode to learn more on how Justin is continuing the fight and what he and AMFA are fighting for. | November 24, 2021 -- In today's podcast, Scott Van de Motter talks with Southwest Aircraft Mechanic Karson Druckamiller. Druckamiller recently retired from Southwest Airlines after working as an aircraft mechanic for the company since 1971. Check out this episode to learn more about Karson Druckamiller as we celebrate his 50 years of service. | |
Page Last Updated: Aug 24, 2022 (13:38:53)