Press Release: 2017 AMFA Scholarship Recipients
For Immediate Release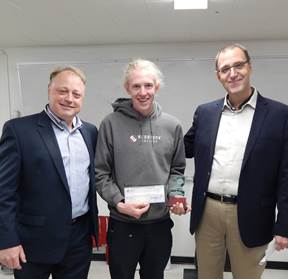 Left to right: National Director Bret Oestreich, Dylan Jordan, and National Secretary/Treasurer Jay Johnson
(April 5, 2017)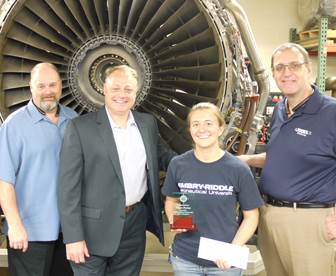 Left to right: National Safety & Standards Director Scott King, National Director Bret Oestreich, Coryn Porter, and National Secretary/Treasurer Jay Johnson
(April 24, 2017).
April 26, 2016 – The AMFA National Executive Council (NEC) is proud to announce the two recipients of the AMFA Scholarship for 2017. Those who applied had to be currently enrolled in a school to gain their Airframe and Powerplant (A&P) license, had to be a US Citizen, and were required to submit a 500-word essay expressing why they chose aircraft maintenance as a career.
The two $2500 AMFA Scholarship recipients for 2017 are Dylan Jordan from Spartan College of Aeronautics and Technology in Broomfield, Colorado and Coryn Porter from Embry-Riddle Aeronautical University in Daytona Beach, Florida.
"AMFA is honored to have the opportunity in helping these young students in the beginning stages of their aviation careers," said Bret Oestreich, AMFA National Director. "AMFA's goals are to raise AMFA awareness in the industry, encourage a higher standard of skill, and to raise the standards of and increase recognition of the class and craft of mechanics and related individuals. After reading some very impressive applications, we are encouraged to know that the next generation will continue our mission."
Congratulations to this year's recipients, and thank you to all who submitted applications. It is inspiring to get a glimpse at the passion and quality of the next generation of Aircraft Maintenance Technicians.
###
The Aircraft Mechanics Fraternal Association is a craft oriented, independent aviation union. AMFA represents licensed and unlicensed technicians and related employees actively involved in the aviation industry. These technician and related employees work directly on aircraft and/or components, support equipment, and facilities. AMFA is committed to elevating the professional standing of technicians and to achieving progressive improvements in wages, benefits, and working conditions of the skilled craftsmen and women it represents. For more information about AMFA visit www.amfanational.org.