TWU, Rattled by AMFA Vote, Responds in Desperation
April 22, 2022
Dear American Airlines Mechanics and Related Employees:
As you are all aware, a grassroots movement within the TWU/IAM "Association" launched a card drive to allow members an opportunity to unify their representation under AMFA and escape the internal politics and distraction of being represented by two different unions.
The card drive vote was extremely close, but your opportunity to have a choice was blocked by the incumbents. It was so close, in fact, that amongst mechanics and related workers, more than a 60% majority of TWU and IAM paying members requested the representation election without a visit from AMFA. It was the added 1,200 individuals that included the deceased, voluntarily retired and fleet service workgroups that tilted the scales in the other direction.
Most organizations would interpret this outcome as a sign that they needed to work on better representing their membership, or else the next time around, that vote would pass. Not your union and their leadership, however. The TWU, seeking revenge against AMFA (even though the card drive was truly an internally organized movement), is now using your dues to fund an ill-advised raid on AMFA at Southwest Airlines. Southwest mechanics and related workers have the best contract in the commercial airline business today and would never accept being a booby prize for an antiquated mega-union hellbent on revenge. Obviously, the TWU-appointed leadership isn't doing this because they have the Southwest mechanics' true and best interests at heart. This move will most certainly backfire, and unfortunately your money will be wasted, again.
In addition, there is a second movement within the Association to petition the AFL-CIO to allow the Association members to vote on being represented by either TWU or IAM, but no longer both. This smoke screen and phantom movement, initiated by TWU Locals 514, 567, and 591, acknowledges the failure of the dual-union Association to faithfully represent its members, the incompatibility of the two unions forming the Association, and that the creation of the Association was a compromise to benefit the union leadership at the expense of its members. In short, TWU was more interested in dues revenue than representation. In appealing to its members, the letter concludes that, "Unfortunately, we will never be able to truly stand as one, as long as there are 'two' unions in the Association." What this means is that TWU is effectively raiding two unions at the same time – AMFA and its own Association partner, IAM. That is the definition of desperate.
The vital lesson in all this is that industrial unions (including TWU & IAM) lack focus, are fearful of choice, and have no authenticity of purpose. This makes them inwardly oriented and selfishly driven to expand their reach and enrich their union leaders at the expense of the dues-paying membership they represent.
It is now clear that the TWU and IAM has struggled with an identity crisis since the day the "Association" was formed. The Association is broken, and always has been. The only question on the table now is how to fix it. One route would be eliminating one of the unions forming the Association via a vote and unifying all the members under the winner. To all of us, this seems more like rearranging deck chairs on the Titanic than a solution. In the end, whichever existing union wins the internal "Blue Card" non-sanctioned vote, you are still beholden to the antiquated, top-heavy AFL-CIO mega-union and its army of high-paid executives focused on enriching themselves.
The other route, of course, is to switch to AMFA. AMFA is an independent union with an unparalleled track record of getting its members industry-leading contracts. AMFA is effective because it is dedicated to faithfully representing their members and ensuring they are heard. AMFA is not a general union pretending to be everything to everyone; AMFA is laser-focused on the unique needs and craft of mechanics and related workers. AMFA is better equipped to support these workers because they are the only workers we support – or as we like to say, "One Craft, One Union."
There has been a lot said during this campaign for representation about job protection, and we would like to put this issue to bed once and for all. In the 10-year period that we were able to identify comparable data (2004 – 2014) for, AMFA increased the SWA Mechanics and Related headcount at Southwest Airlines by 44%. During that same period, TWU Mechanics and Related headcount at American Airlines decreased by 39%![1]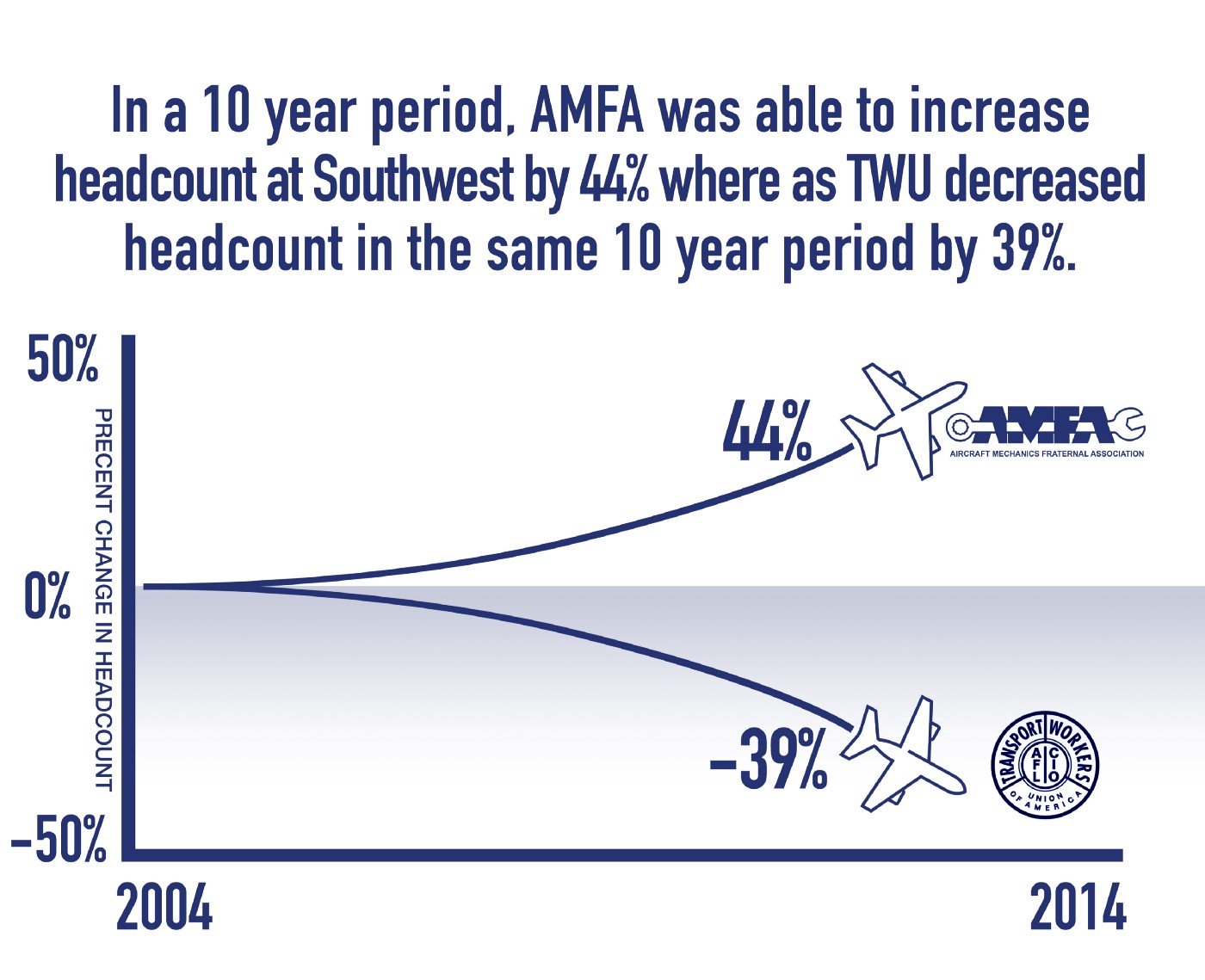 And more recently, during the pandemic, AMFA vigorously enforced its no furlough provisions through arbitration, and not a single AMFA member was laid off during Covid. Sadly, we know that was definitely not the case for TWU/IAM membership at American.
AMFA wants you to have a real choice, and to that end, we are supporting the grass roots AMFA AA organizers in their continued card drive to give you the right to choose and vote for AMFA. If anything has become obvious in the last 18 months, it's the desperation of the TWU and IAM to cling to the past and protect a status quo that never served you well. AMFA will bring new leadership, new vision, and greater strength against management. AMFA will finally allow you to be heard, and have representation that puts you first, not your money. We ask that you consider this issue carefully, and if you do, we know you will support having a greater say in your future and sign a NMB Sanctioned AMFA card.
Sincerely,
Bret Oestreich
National President
---
[1] 31 NMB No. 111 2004 AA AMFA vs TWU Eligible M&R 18,601
31 NMB No. 111 September 21, 2004
42-NMB-No.-15-FUI.pdf TWU-IAM decertified filed on August 1, 2014 NMB Eligible M&R 11,349
CASE NO. R-7422; R-7423 and R-7424 (FILE NO. CR-7131) FINDINGS UPON INVESTIGATION April 15, 2015 file
7,252 Job loss from the (5) TWU overhaul stations TUL and DWH and TWU Bases Permanently Closed Overhaul MX in 2009-MCI, 2012-AFW and 2012-TAESL.
30 NMB No. 27 Southwest Airlines AMFA vs IBT NMB 2003 Eligible M&R Voters 1,751
30 NMB No. 27 CASE NO. R-6919 CERTIFICATION January 27, 2003
Population Analysis Report December 30, 2014 AMFA M&R 2,545