AMFA Officers Attend AEI Annual Congress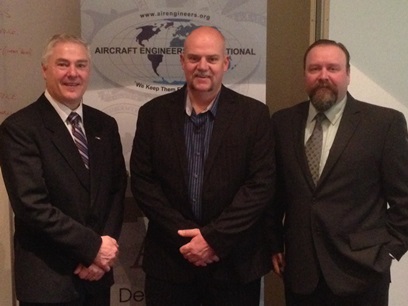 In November the AMFA delegation composed of Louie Key, National Director; Dave Brooks, National Safety & Standards Director and AEI Secretary of the Americas; and Brad Fornelius, Local 14 VP and "Delegate at Large" attended the Aircraft Engineers International (AEI) 41st Annual Congress in Melbourne, Australia. AEI is the only global aircraft maintenance technician craft-specific affiliation. Delegates from around the world gathered to discuss the many pressures our profession is facing as airlines push to reduce costs in their maintenance budgets.
The Congress was hosted by the Australian Licensed Aircraft Engineers Association (ALAEA). The President of ALAEA, Paul Cousins, reported that Qantas' director Tony Lowery (formally of SWA) had just recently announced a base maintenance closure and the furlough of approximately 400 positions as those jobs are being outsourced to a vendor. It certainly makes the point on how small a community aircraft maintenance really is. To watch the latest developments at Qantas click here. In addition, WORLD2TODAY ABC Radio interviewed Paul Cousins yesterday regarding the "sacking of 1,000 employees" at Qantas; click here to listen to the interview.